SUNCREAT - July 11 2022
#What We Create: Blaze Family
Blaze family, known as @ourfamilyadventures on Instagram with over 100,000 followers, loved and have traveled the world with many memories. We were excited to know their colorful experience and opinions about travel and outdoor activities!
Here's our interview:
Hi, we've followed you on social media, but please introduce yourself to everyone, especially new friends.
We are the Blaze family! I'm Tiffany, and my husband is Jacob. We have 3 kids: Taylor (23), Ocea (7), and Cedar (5). We typically travel 4-5 months of the year, but our home base is in Franklin, TN.
What countries and cities have you been to? Which place do you like best and why?
As of this month, we have been to 48 states with our two littles. We just took them to Minnesota, and we loved it so much we are already planning our next trip back. My husband and I have been to several countries individually, but we've taken the little ones to Canada, Iceland, and Mexico so far. We are dying to get them to Ireland because that's been our absolute favorite.
What made you want to take a camera to record your life and post them on social media?
I naturally love taking videos of my kids to have when they're older. Combine that with a love of photography, and that's how we ended up here. It's also been really fun to share our story and remind others that it is possible to travel with kids. It's actually super enjoyable!
What does outdoor life mean to you? What is the most memorable time you spent outdoors?
We believe an outdoor life is a life well-lived. From the fresh air to the scenic views, it's a perfect place for our children to explore God's creation. I'd have to say one of our most memorable days would be the day we took a boat out on Lake Powell. I remember our whole family being in awe the entire time.
SUNCREAT - Nov 2nd 2022
Best Fire Pits
Fire pit is an essential to backyard and the perfect way to keep the warmth alive, allowing you to enjoy both outdoor life and warmth longer. A fire pit is also an ideal addition to any outdoor space, whether you're having a BBQ, roasting marshmallows, grilling hot dogs, having a bonfire, or simply enjoying the warmth in your yard.
The introductions below, which feature fire pits in various types and sizes, may help you choose the appropriate portable one if you're looking to purchase your first fire pit or to replace an outdated one.
Round Fire Pit
These 3 fire pits are made of high-quality iron and similar in structure, with sizes of 30", 36", and 42", to satisfy your different needs. The legs of the fire pit are firmly in place. The basin's hollow decor allows for beautiful flame renderings and helps with air circulation. The top is equipped with a mesh spark screen, which prevents sparks from flying while yet providing a clear view of the fire pit's interior. The top of the cover has a handle for simple use. It's worth noting that please use a poker or other tools to control the screen to avoid scalds. Around the fire pit, there is a ring handle that can be used to hang hooks and other items.
Advantages:
High-qualified iron for long service life.

A hook is included for your convenience.

Practical and attractive.

The built-in wood burning grate provides good ventilation to maintain the fire burning for a longer time.
Function:
Warm yourself by the fire and roast marshmallows or hot dogs.
Square Fire Pit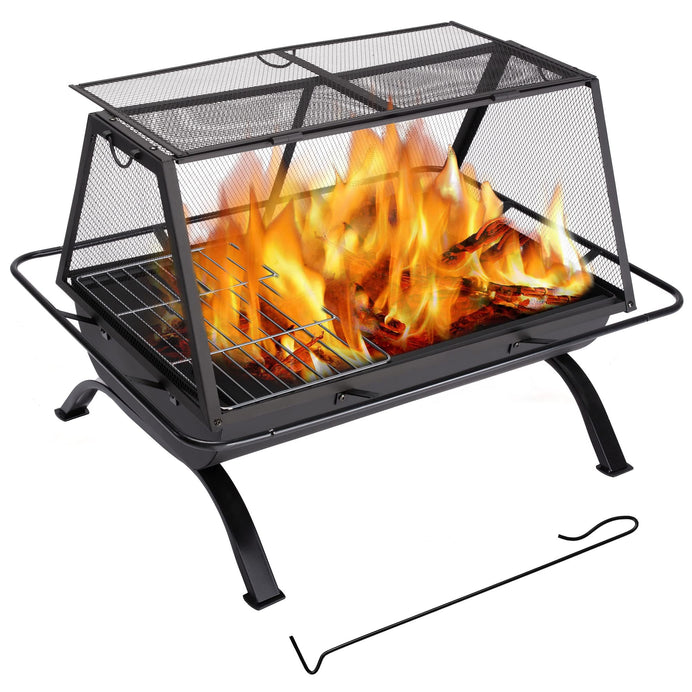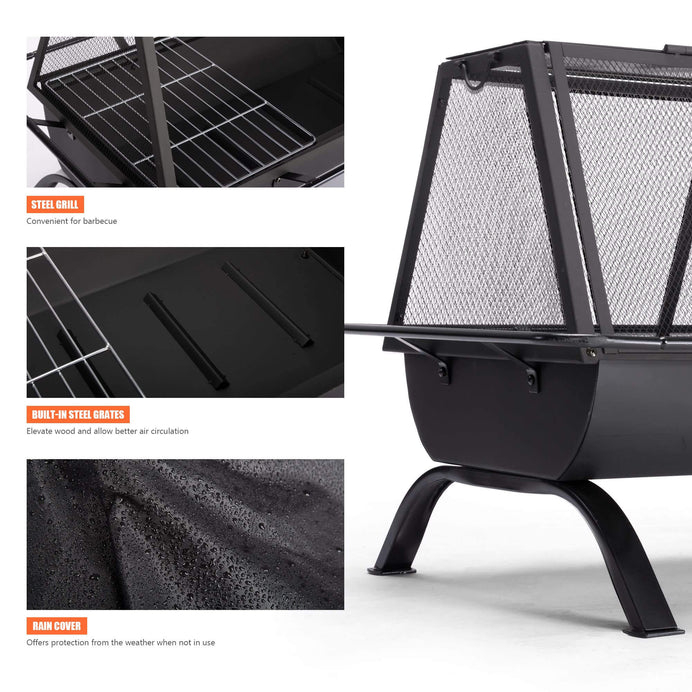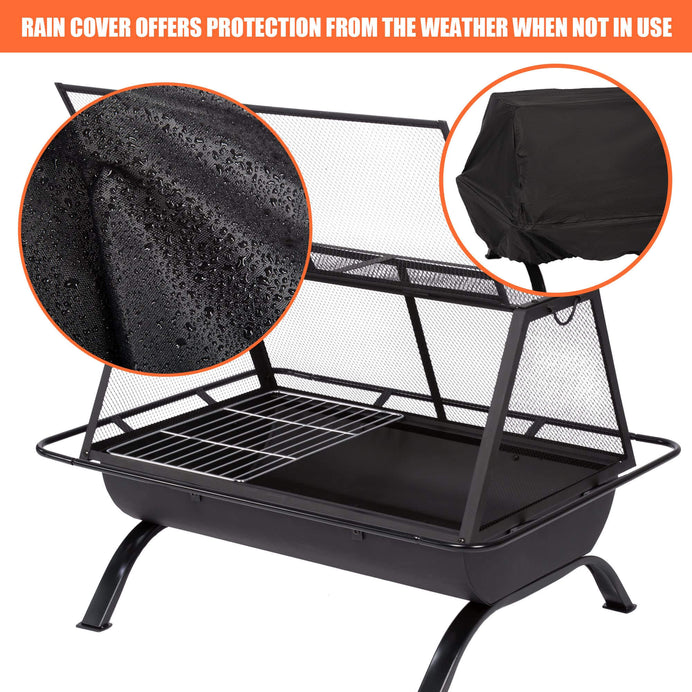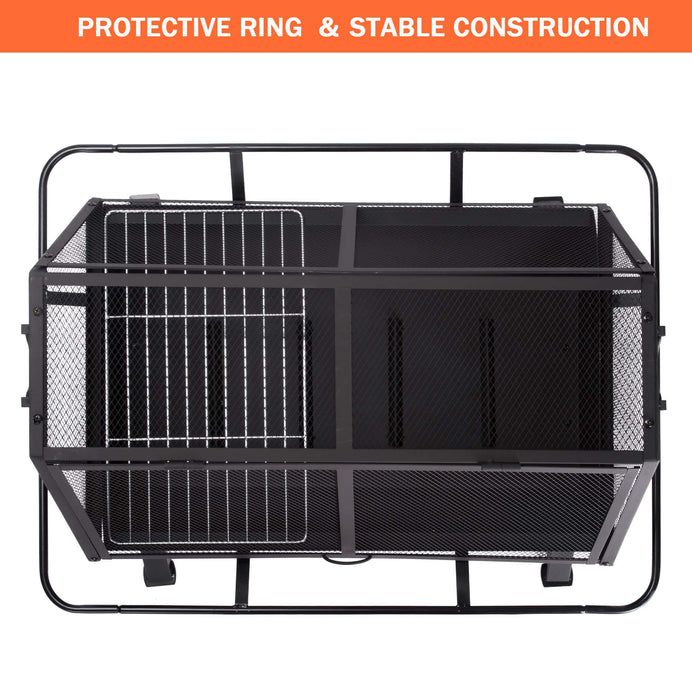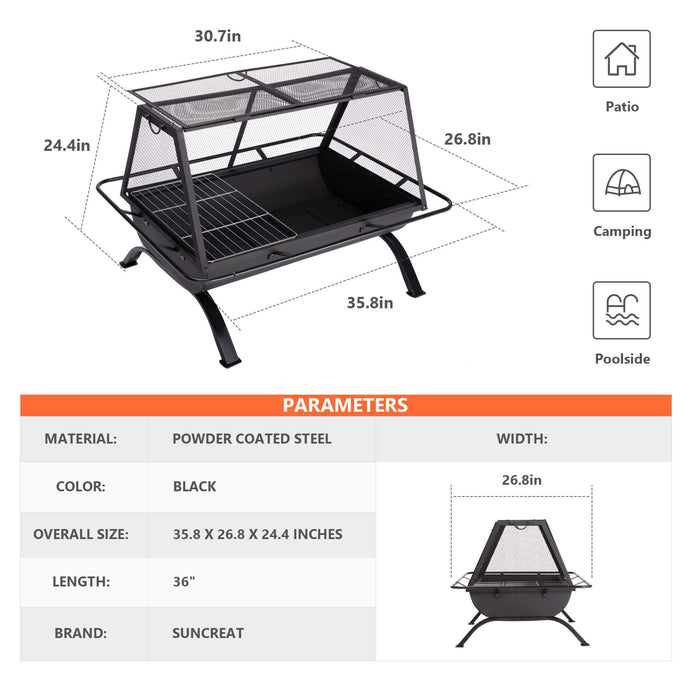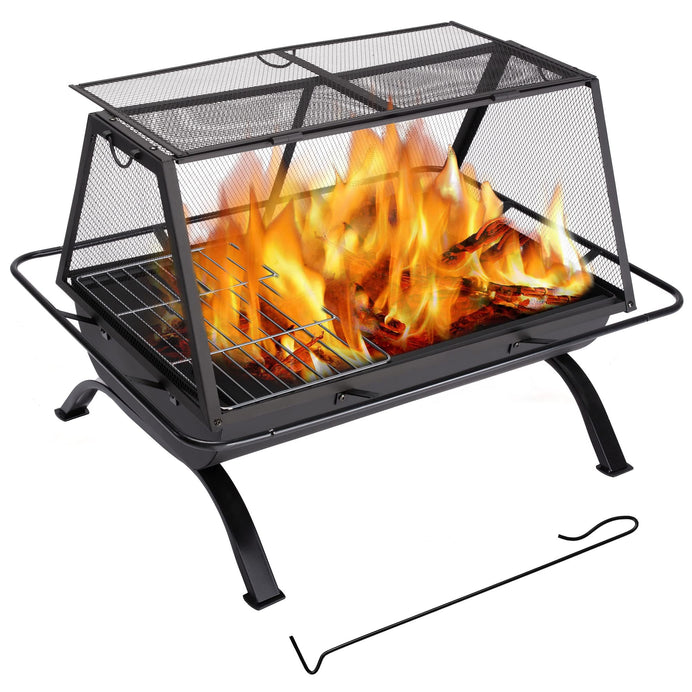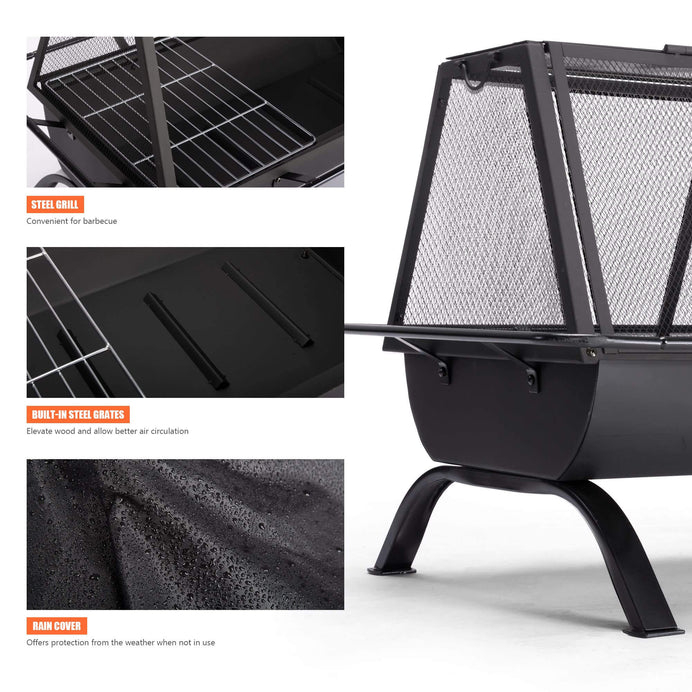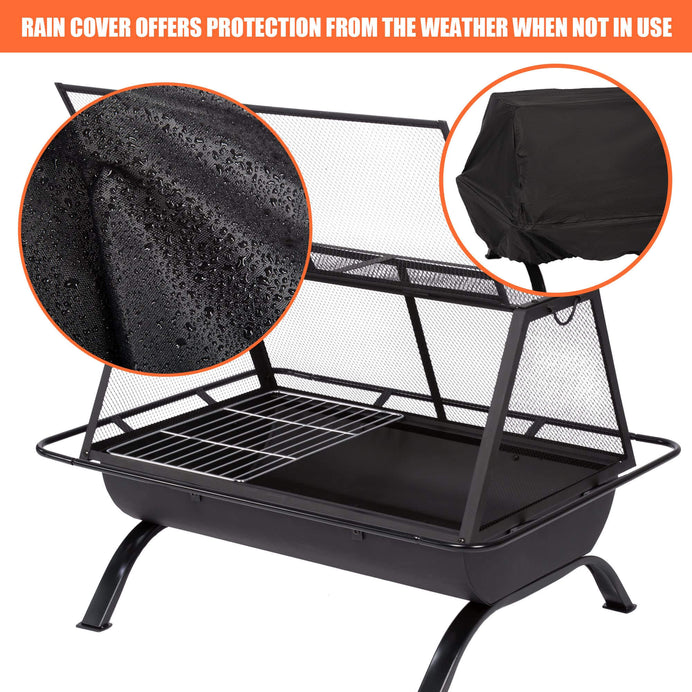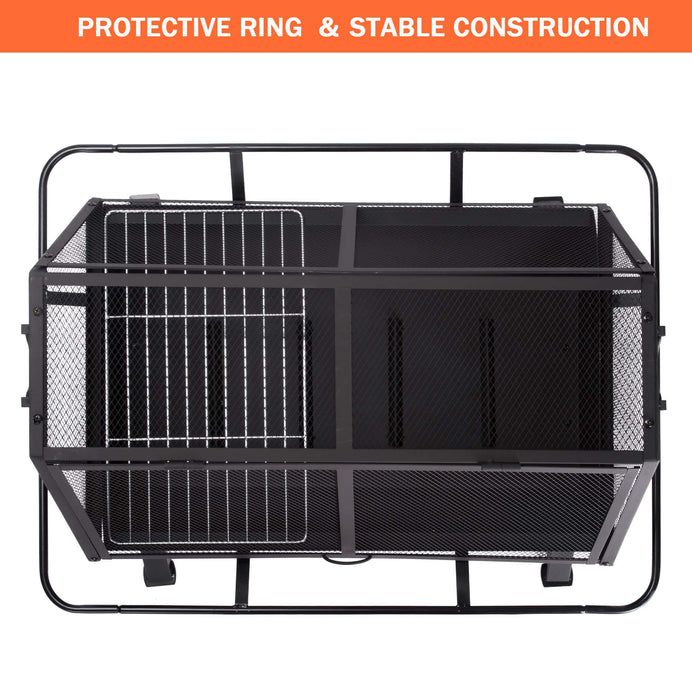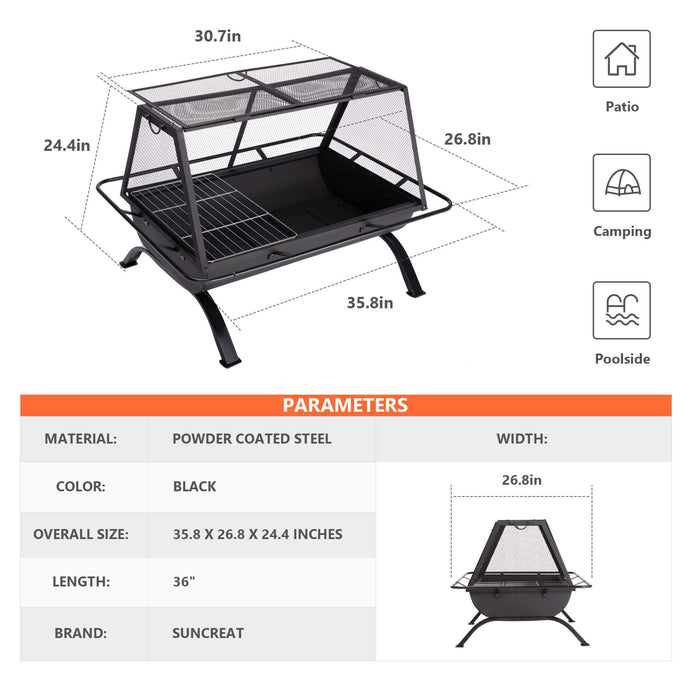 The square fire pit is made of high-quality iron. The arc foot support on the bottom is stable and safe. The burner is fitted with a mesh screen. One side of the cover can be opened for operation and a poker is also available to control the fire. It is worth noting that use a poker or other tools to control the screen to avoid scalds. One side of the fire pit is equipped with a steel grill and it can be shielded by the screen from the wind and sun.
Advantages:
Equipped with a steel grill for BBQ and a poker to control the fire.

A closed screen prevents sparks from flying out.

The overall design is stable and safe to use.
Function:
warm by the fire & BBQ
Mesh Spark Screen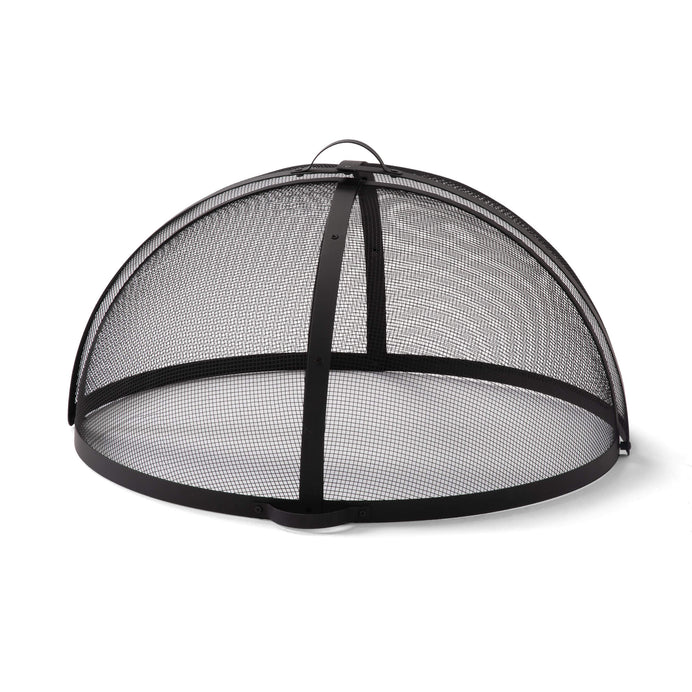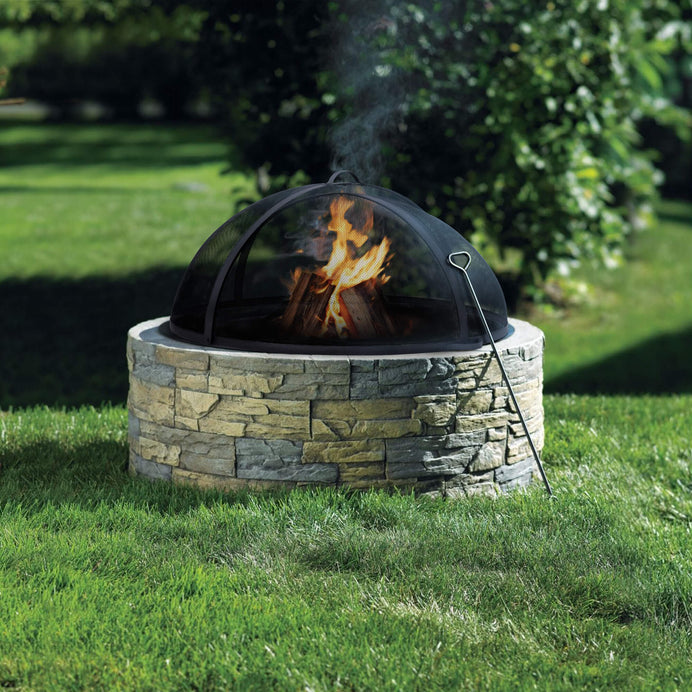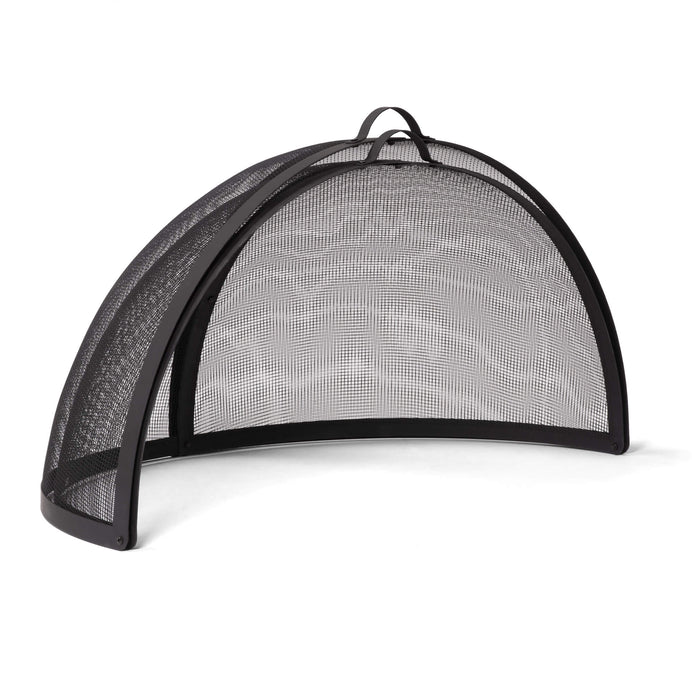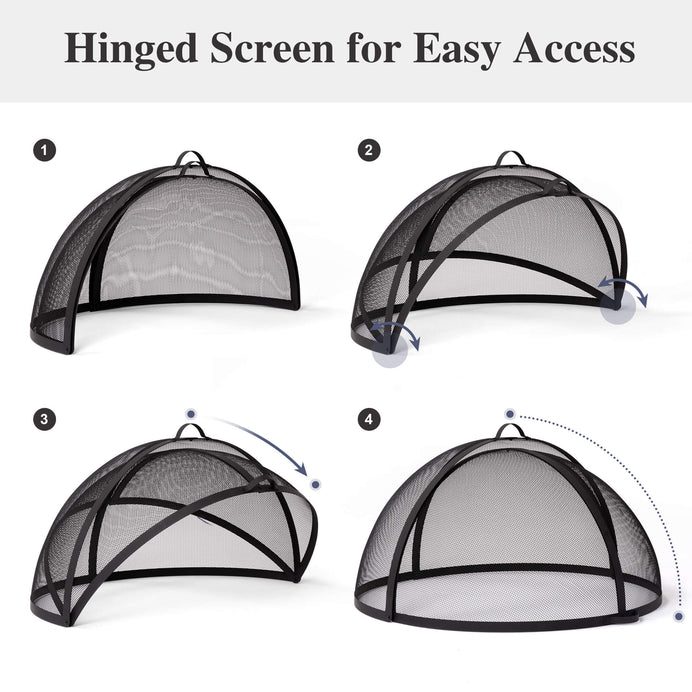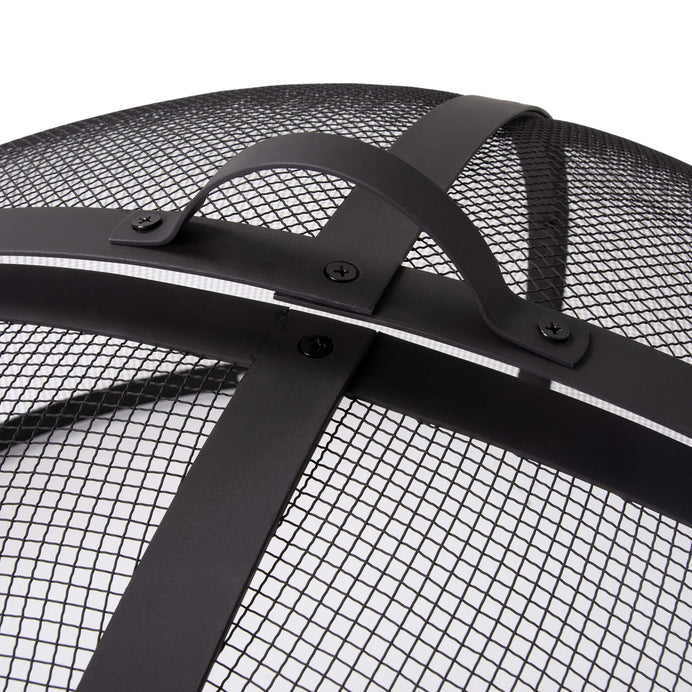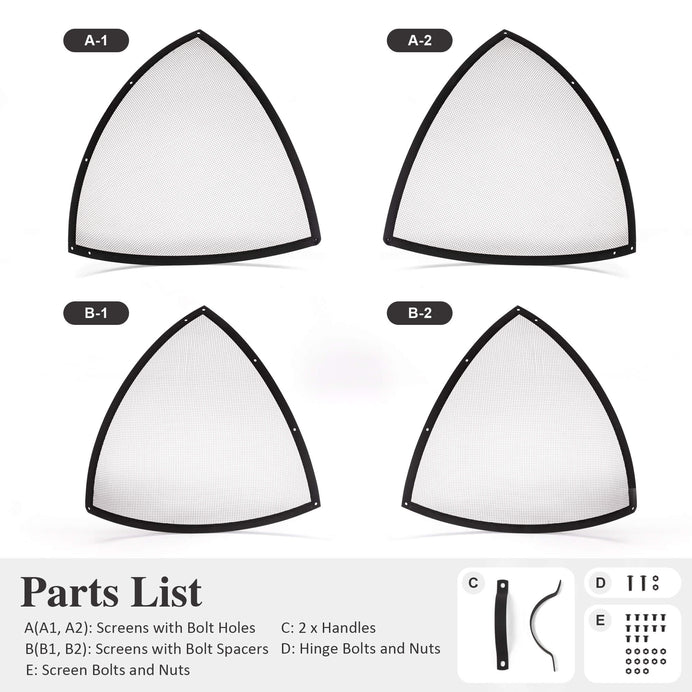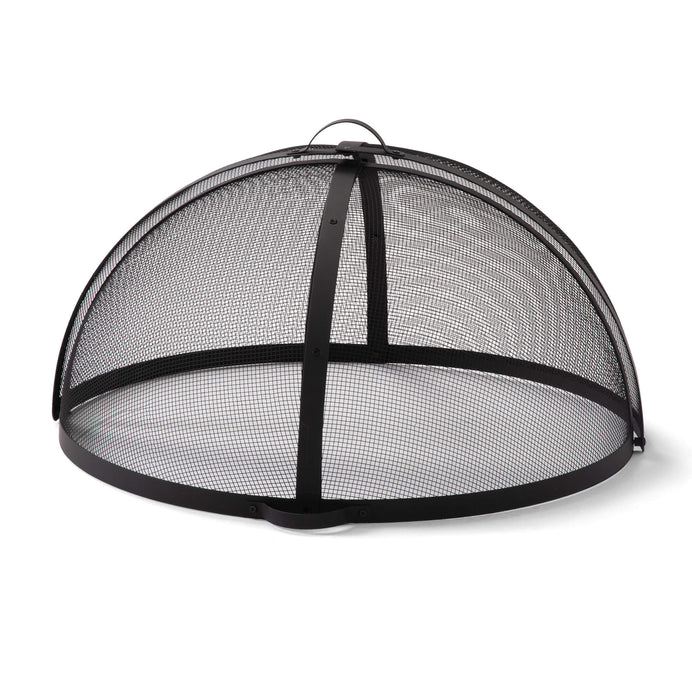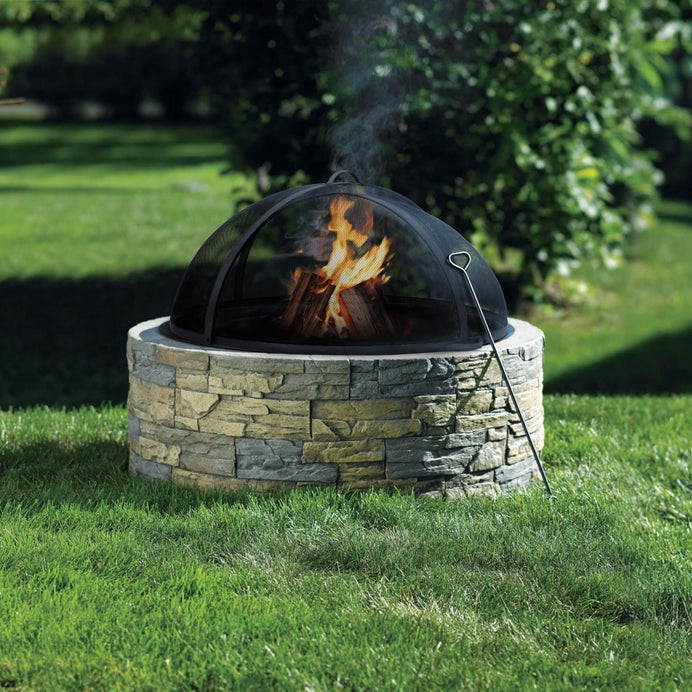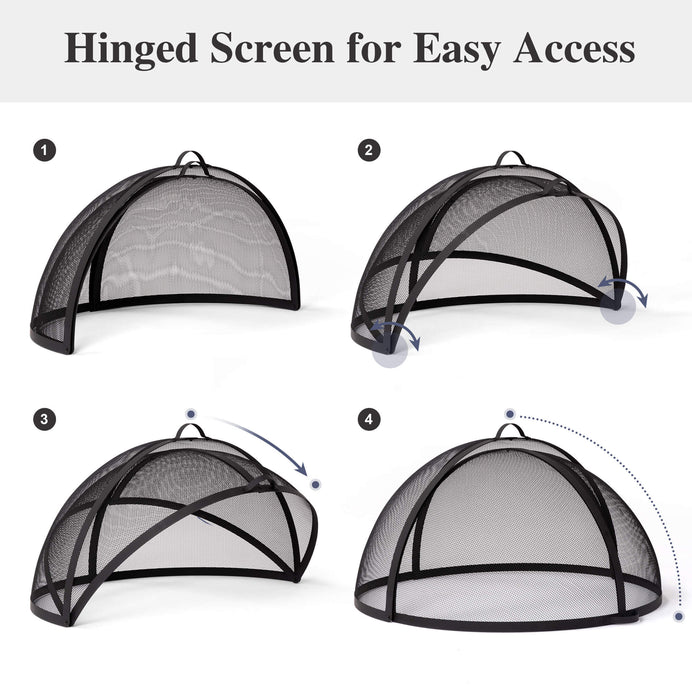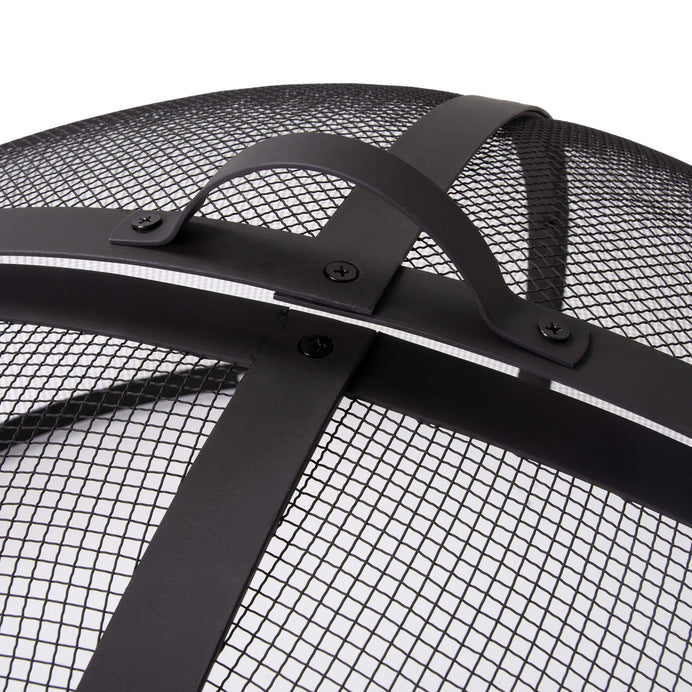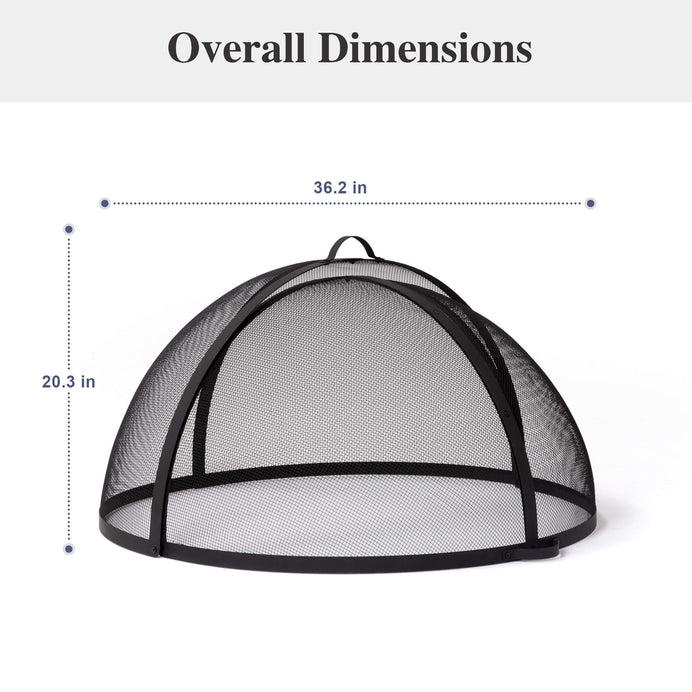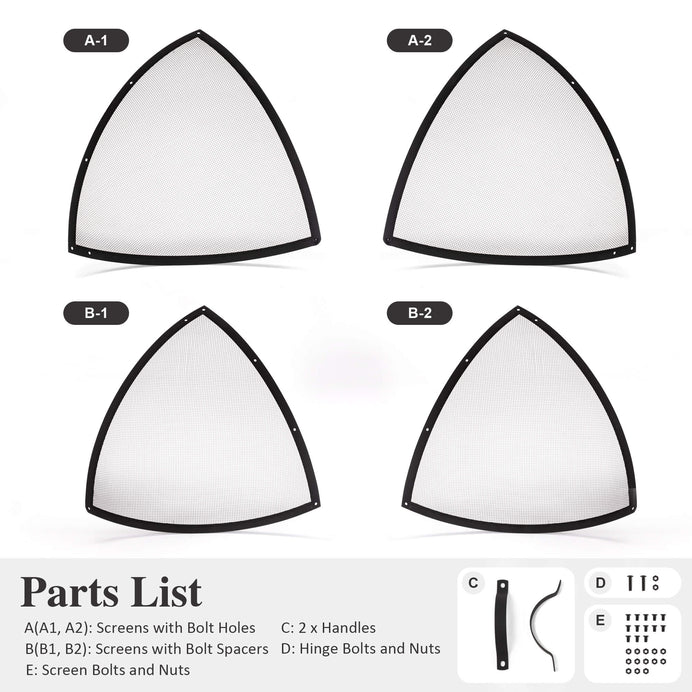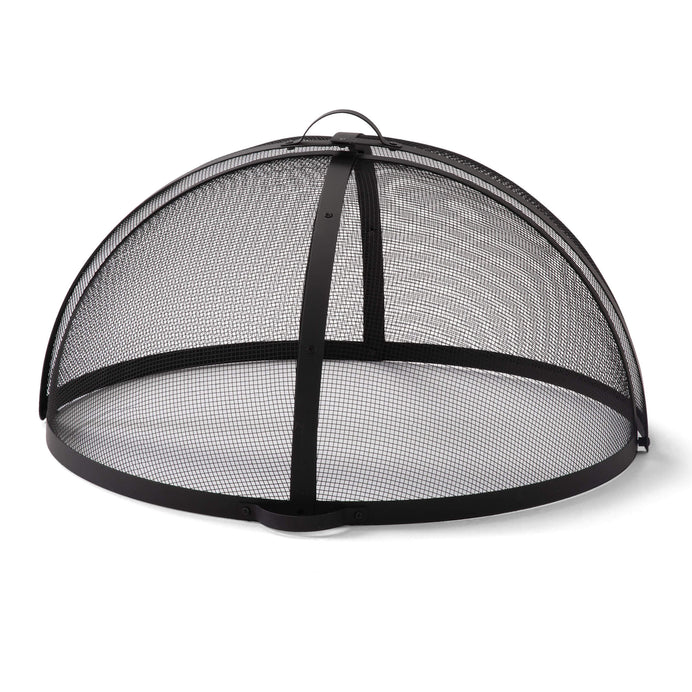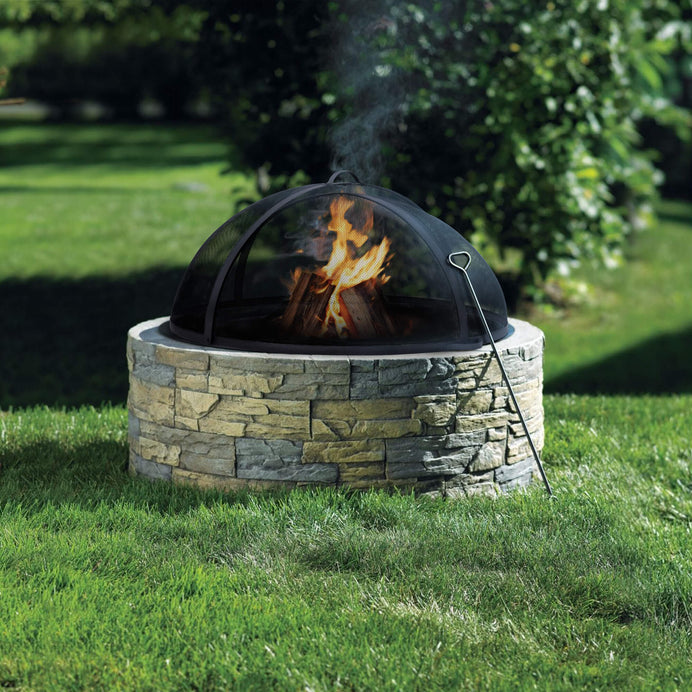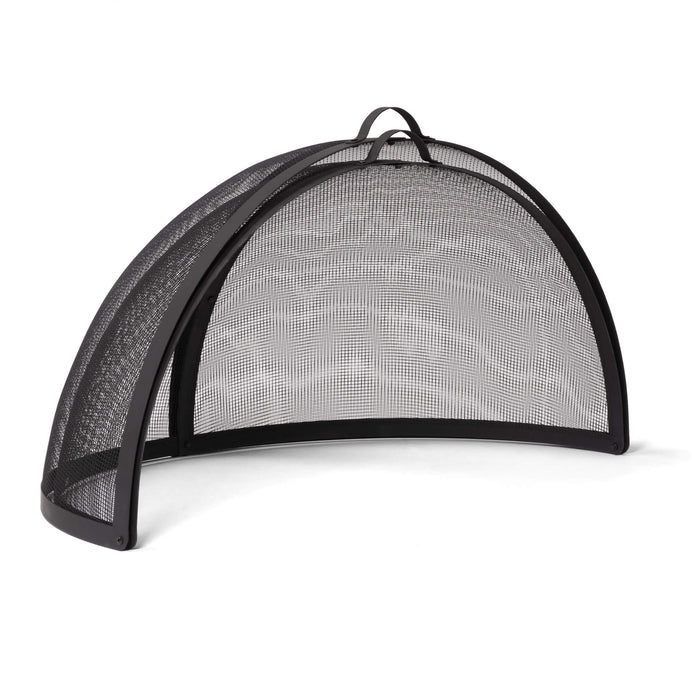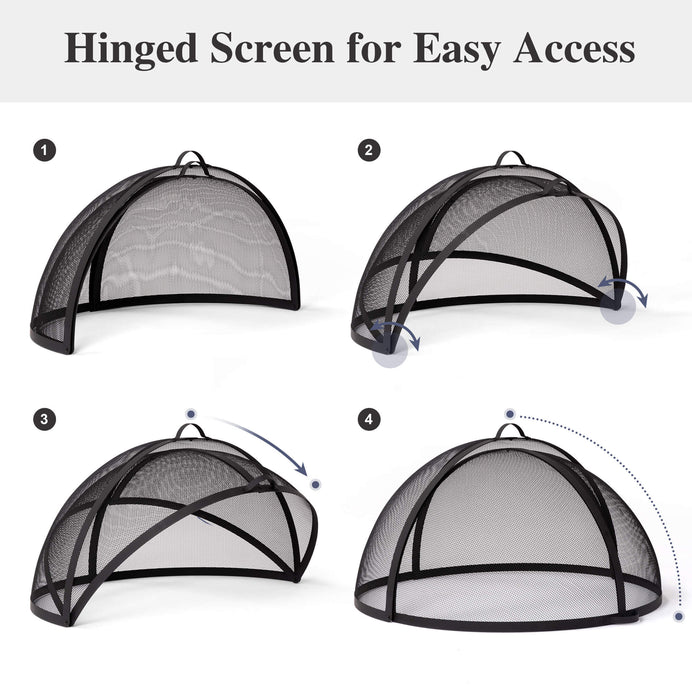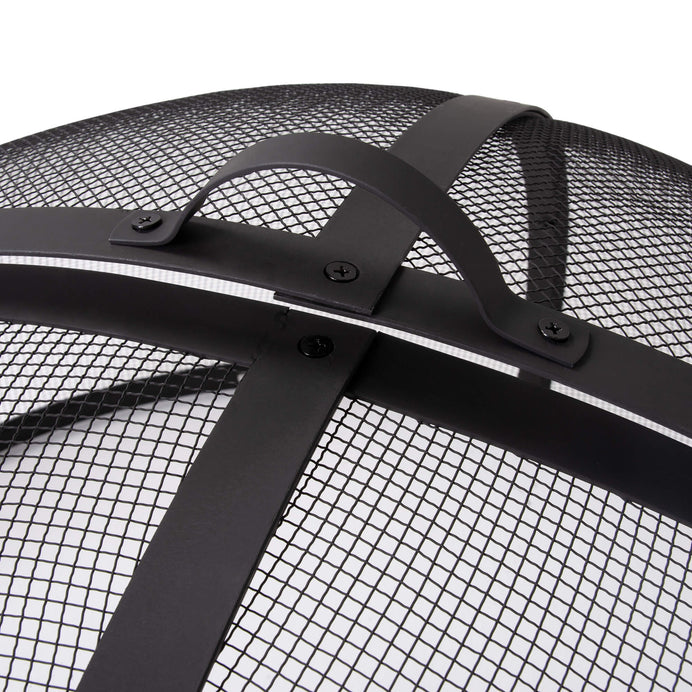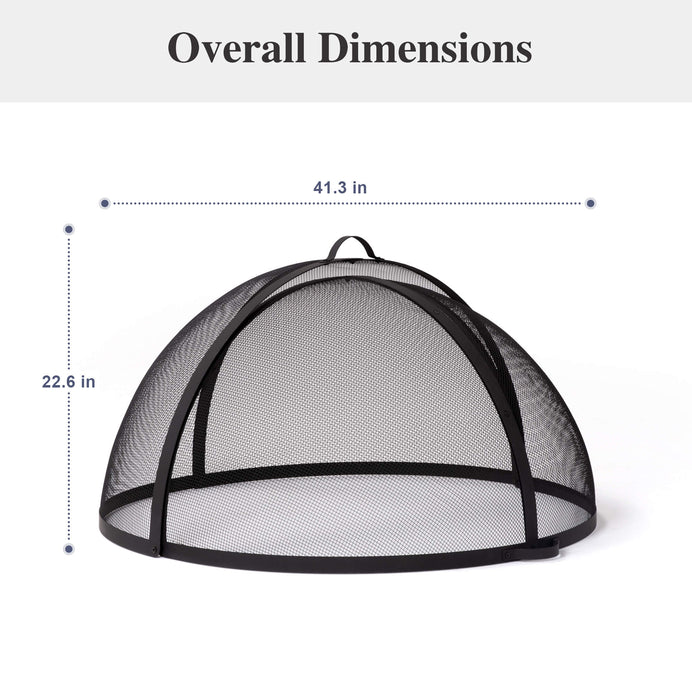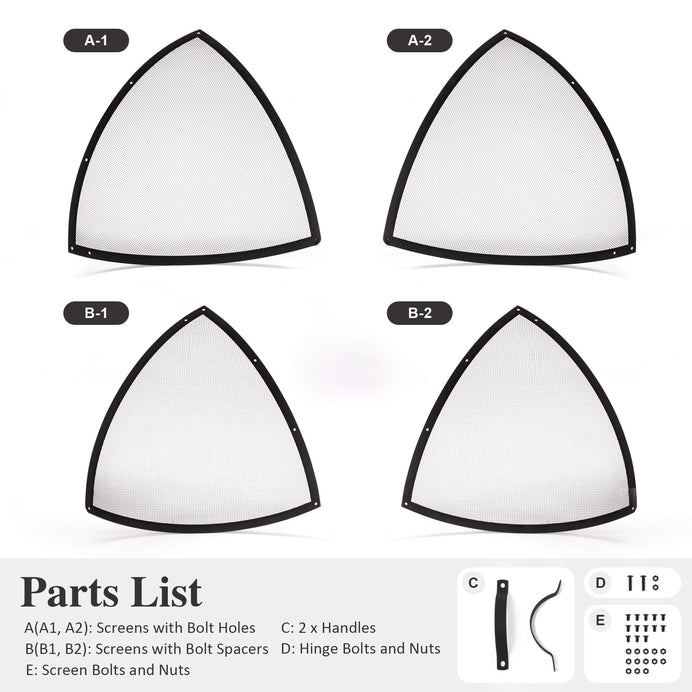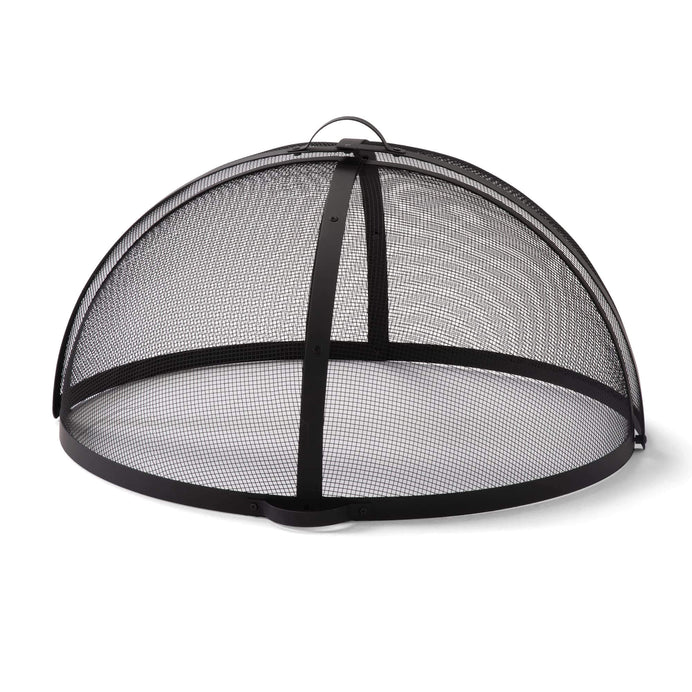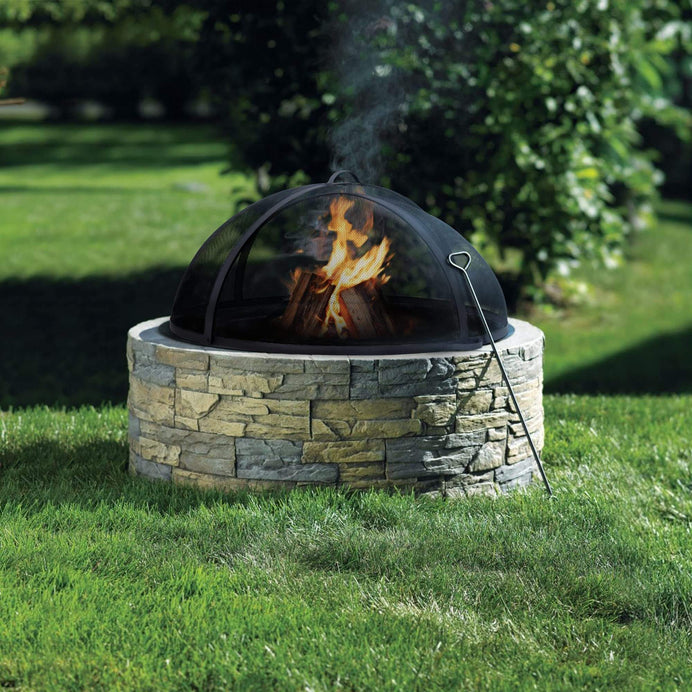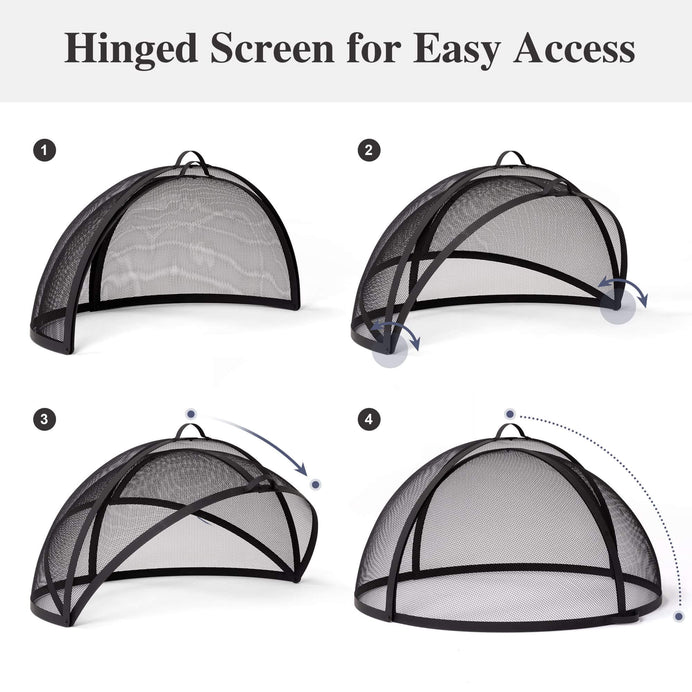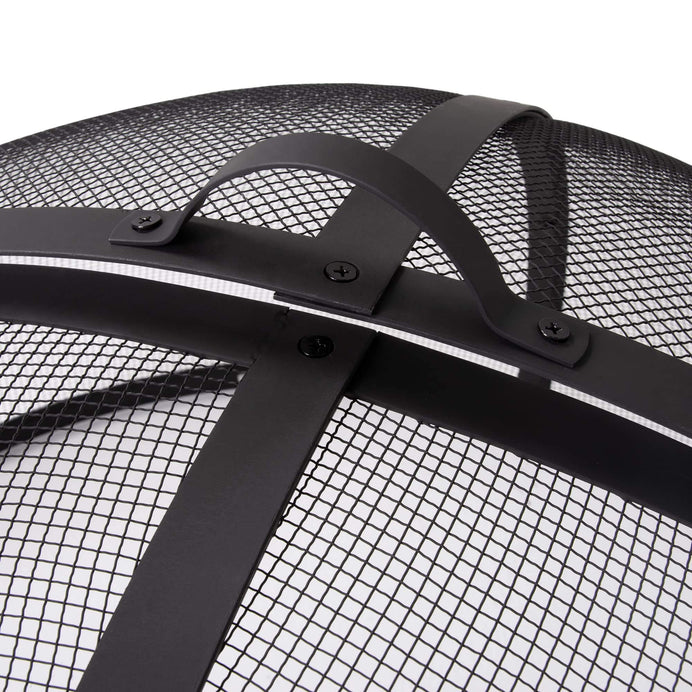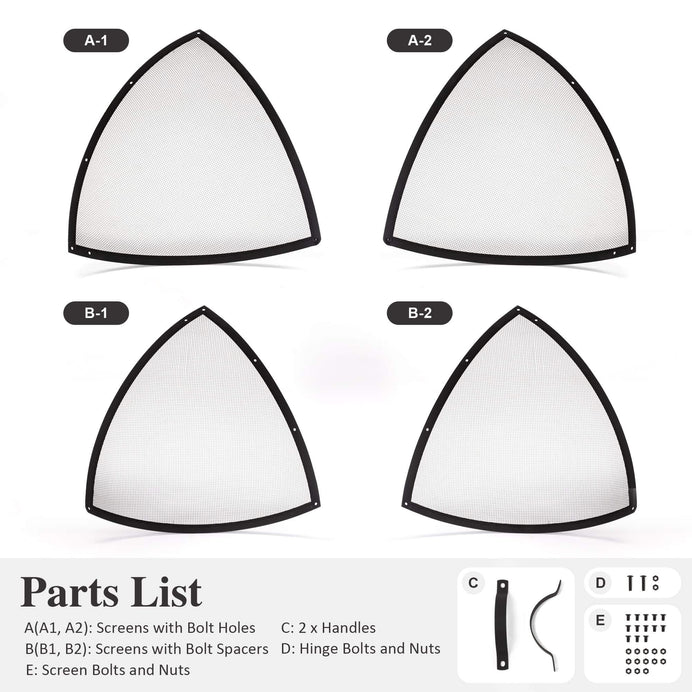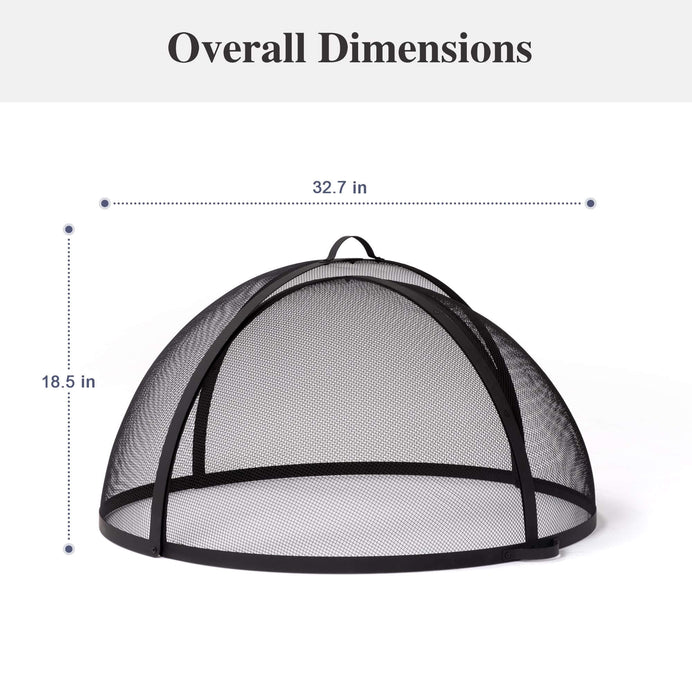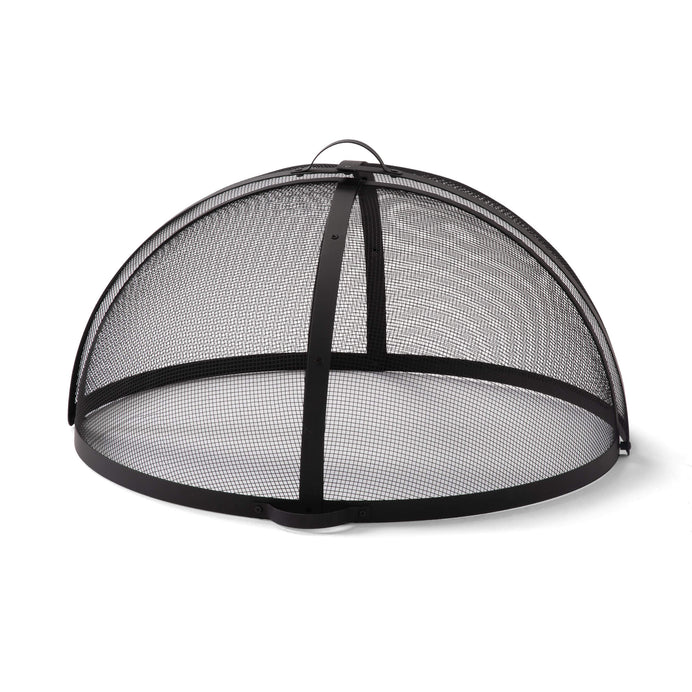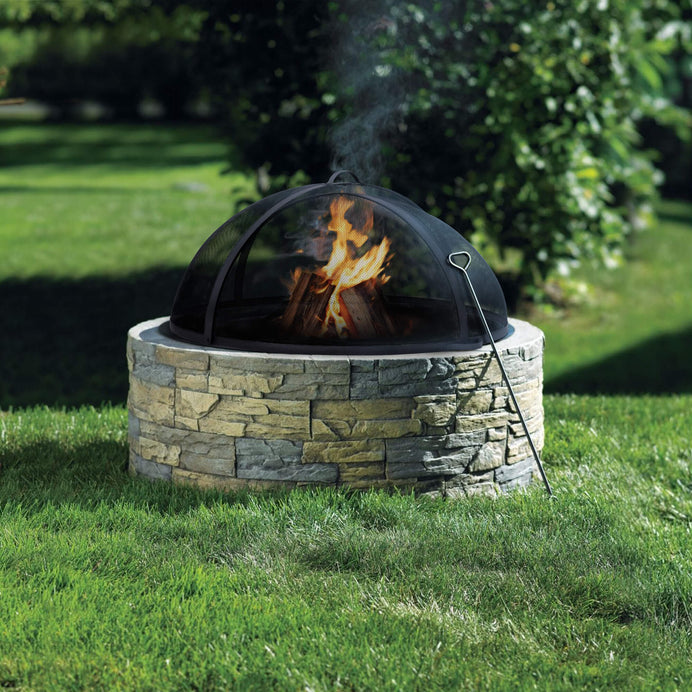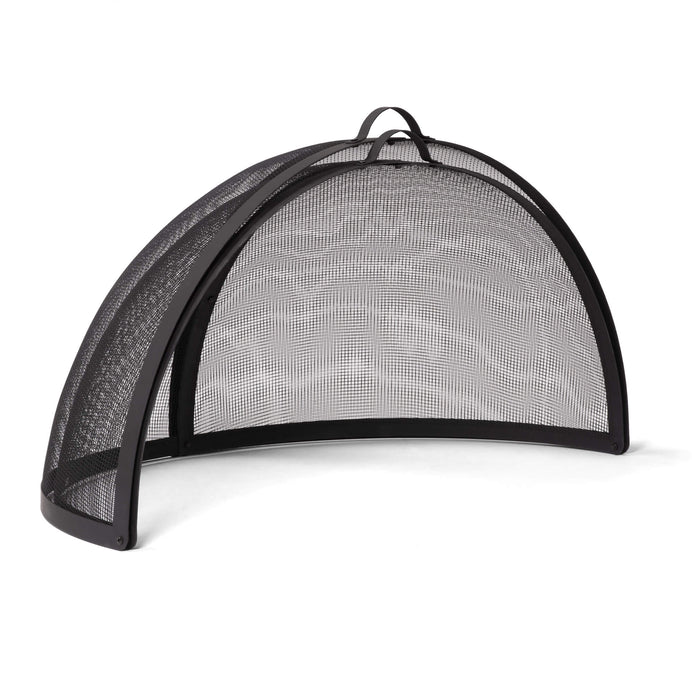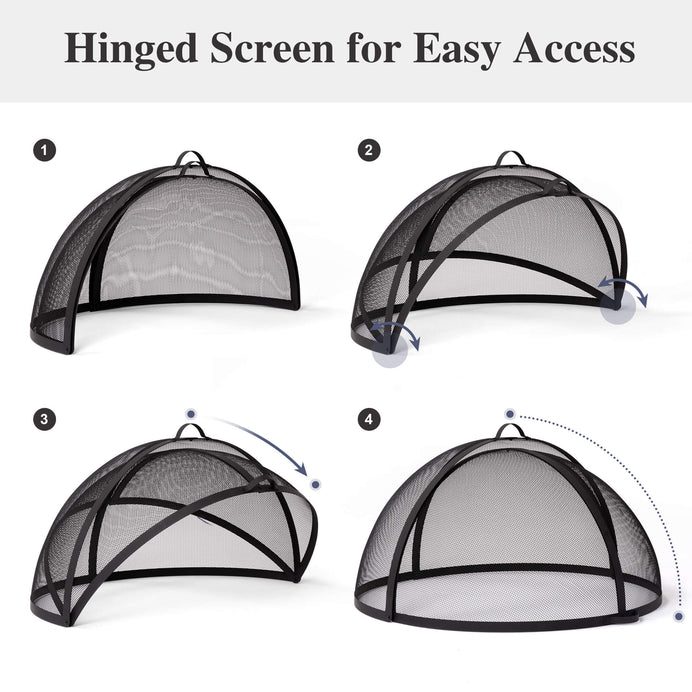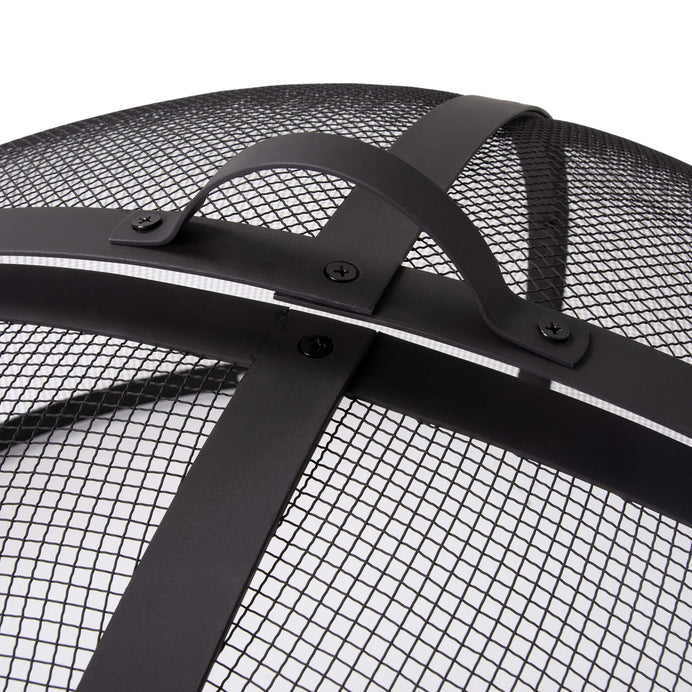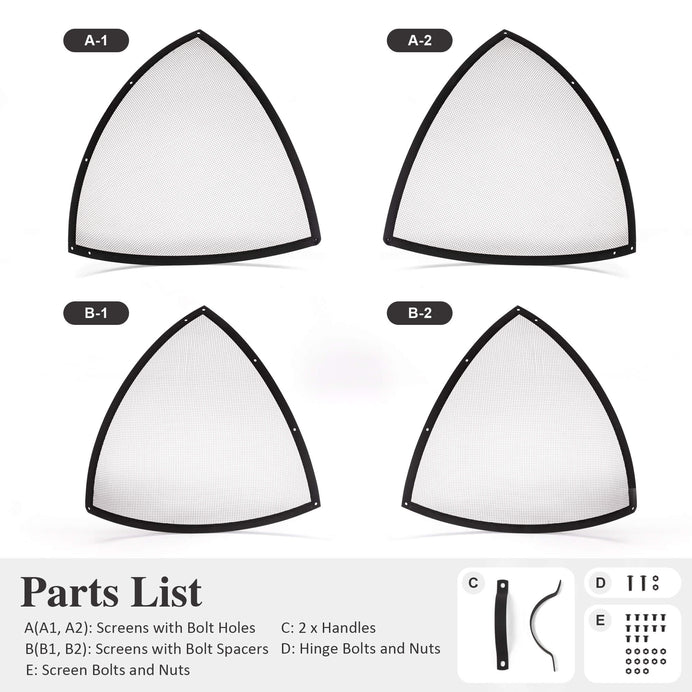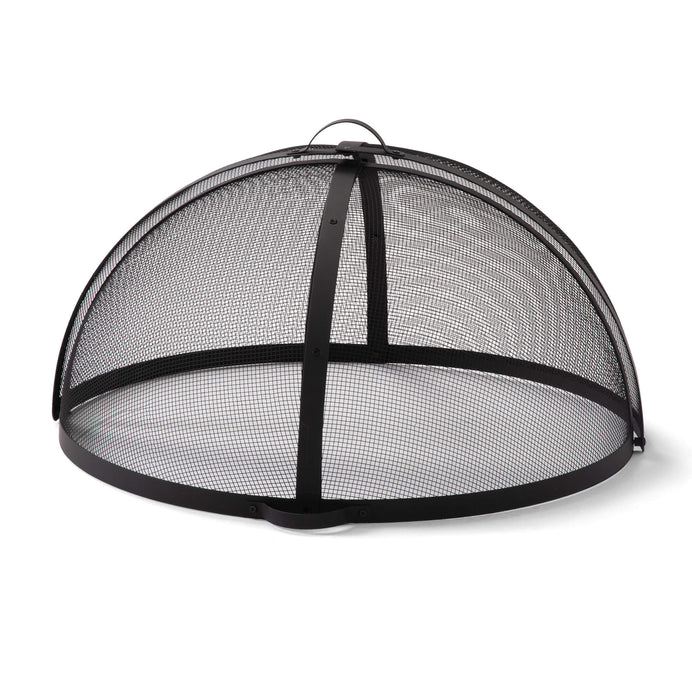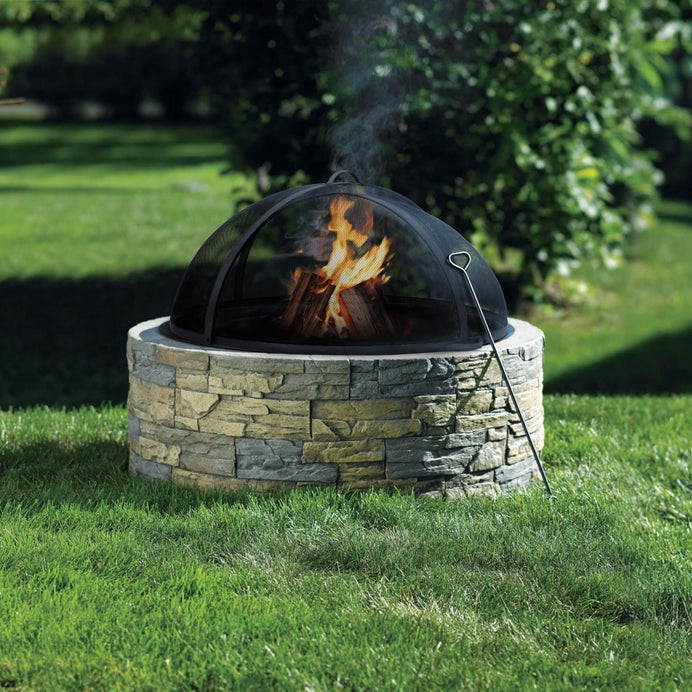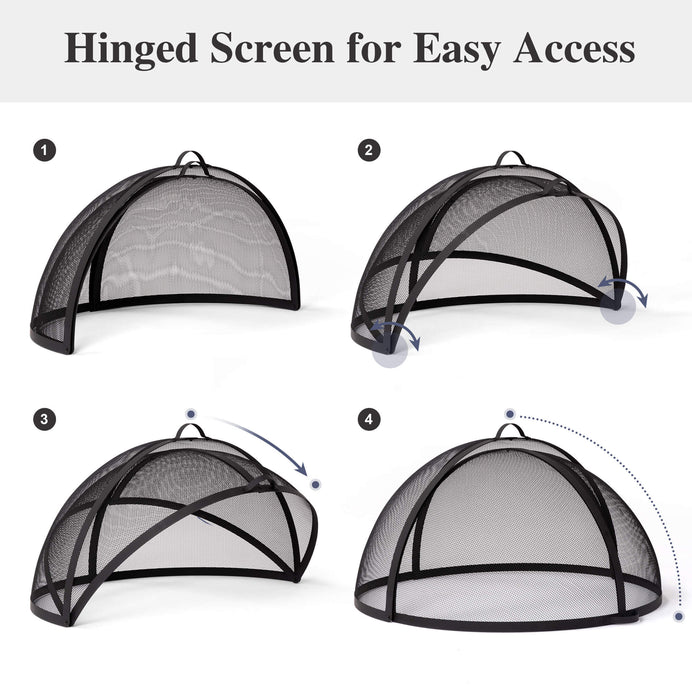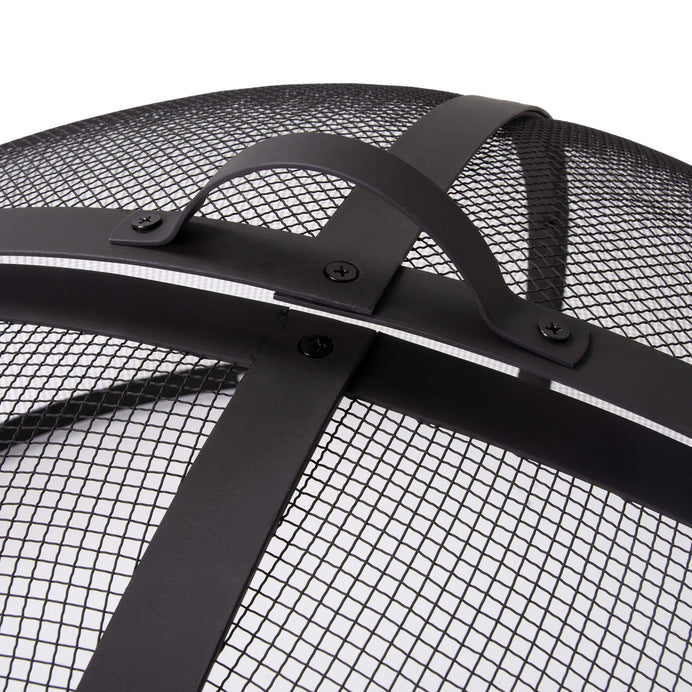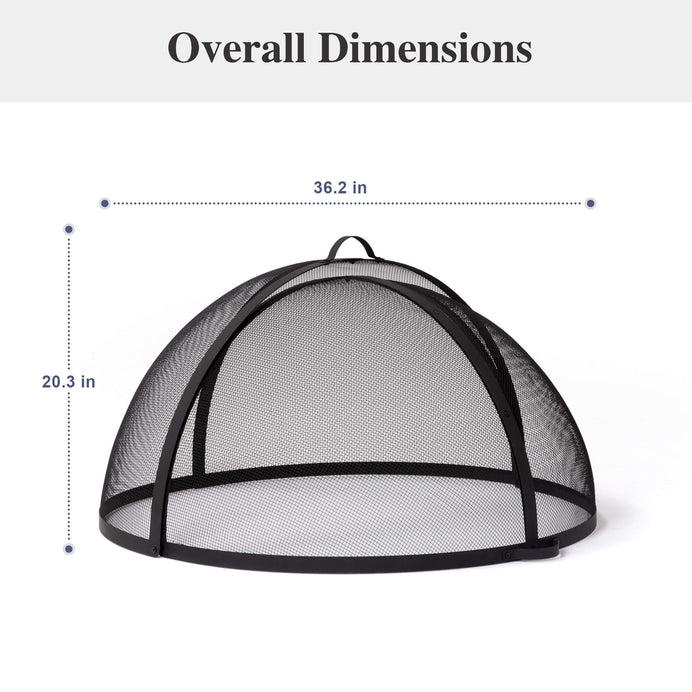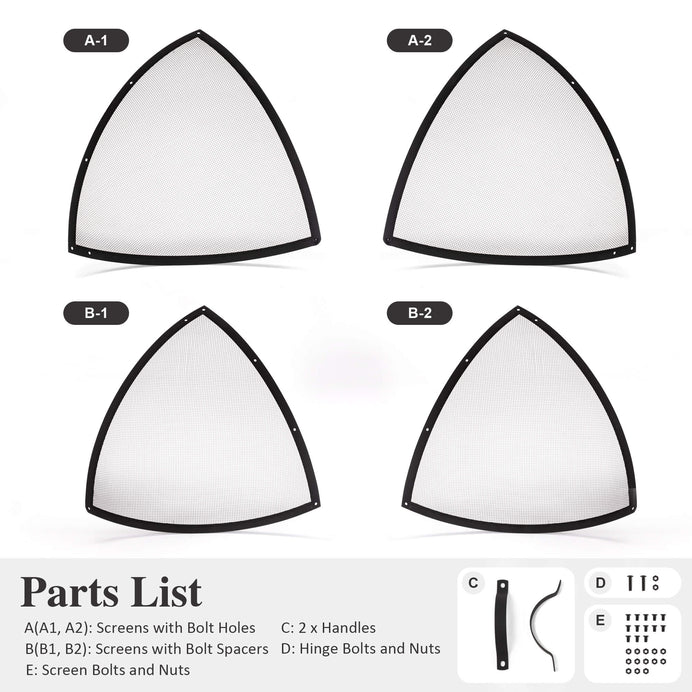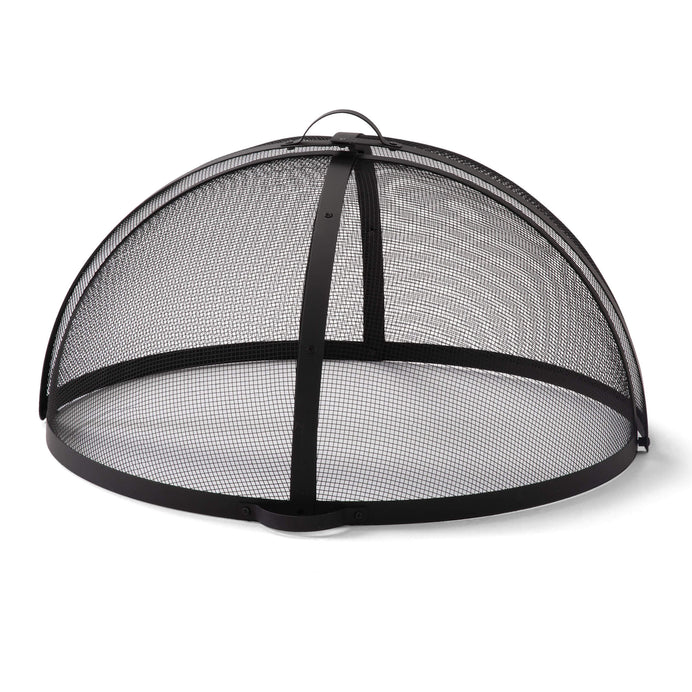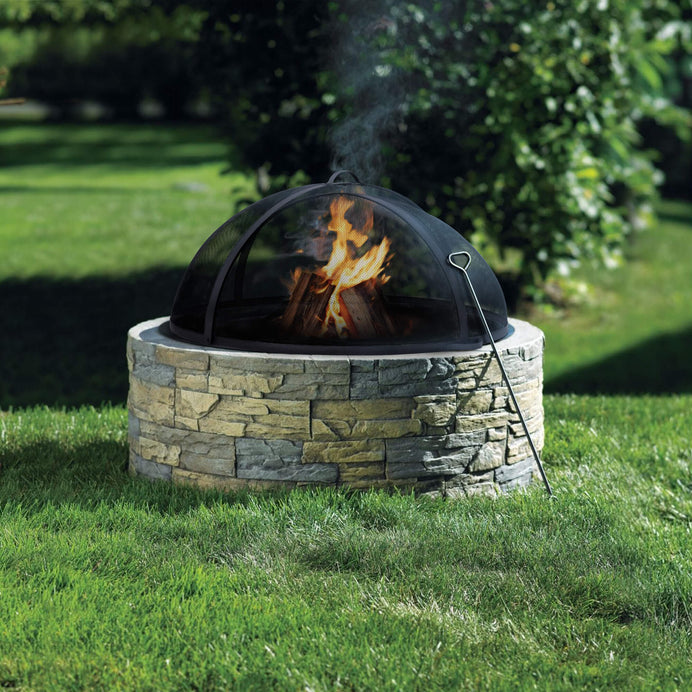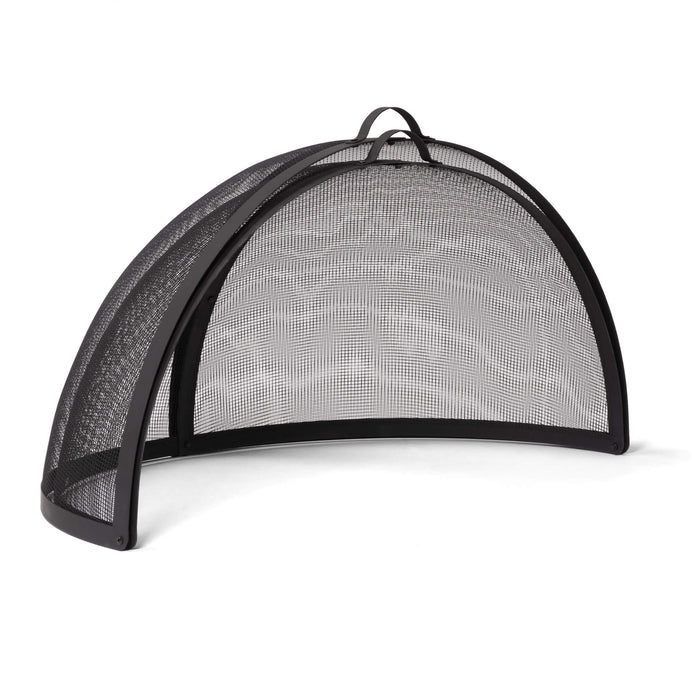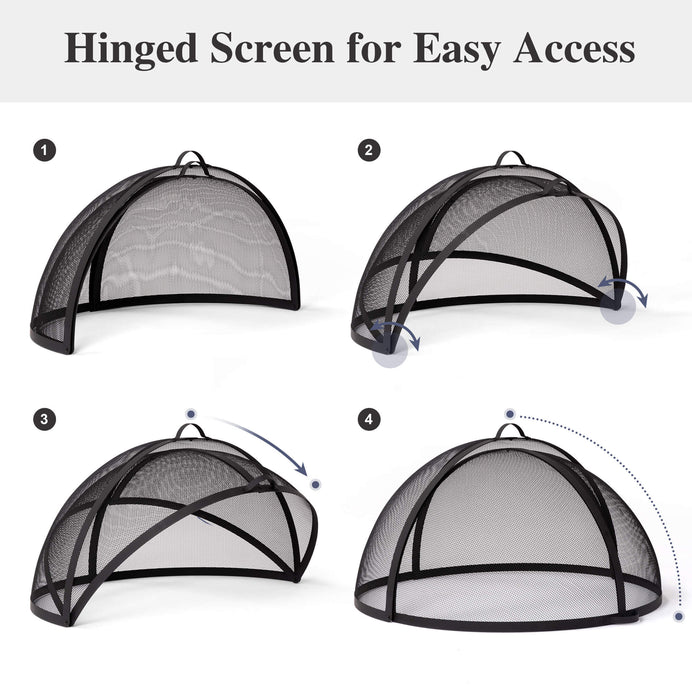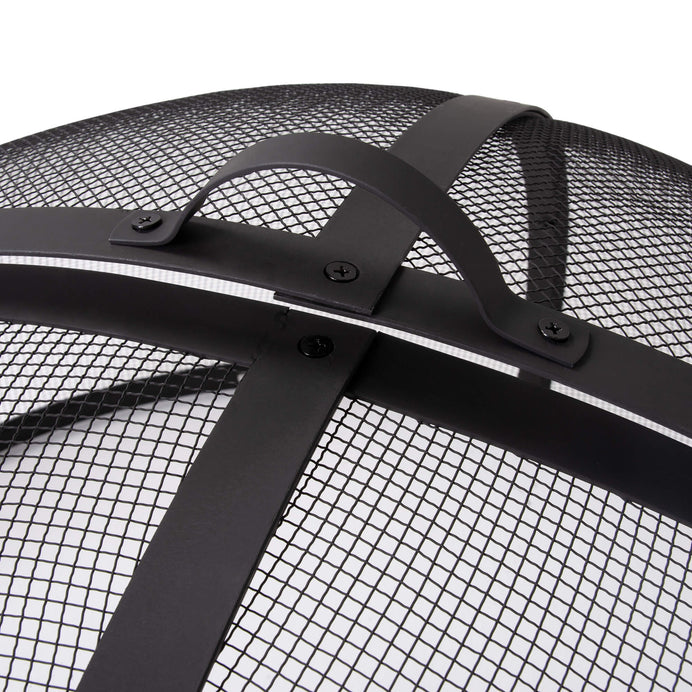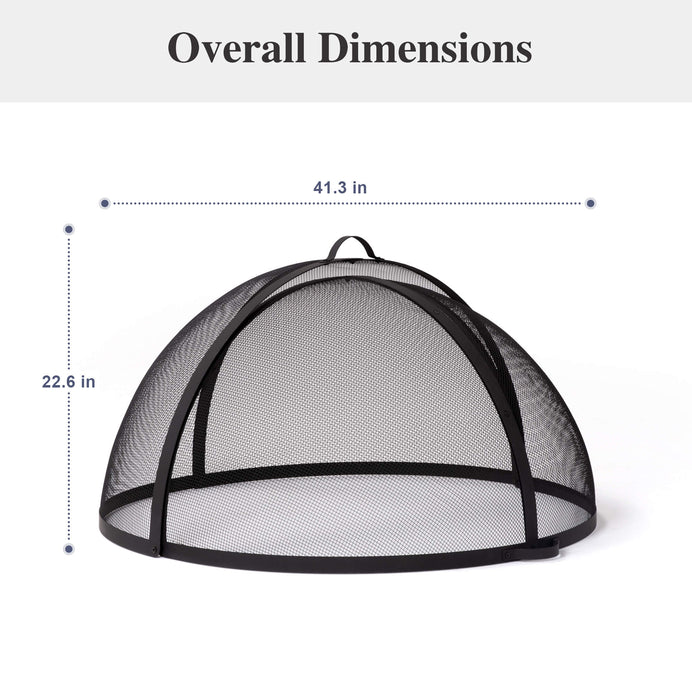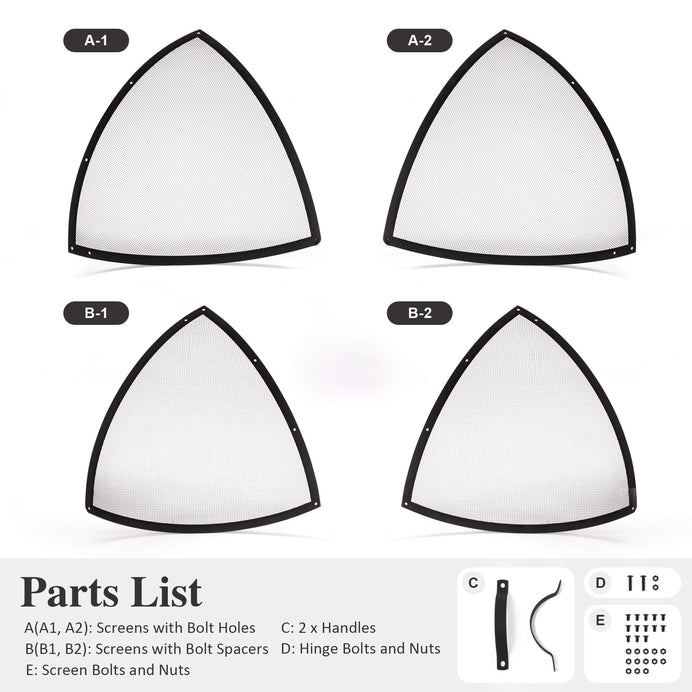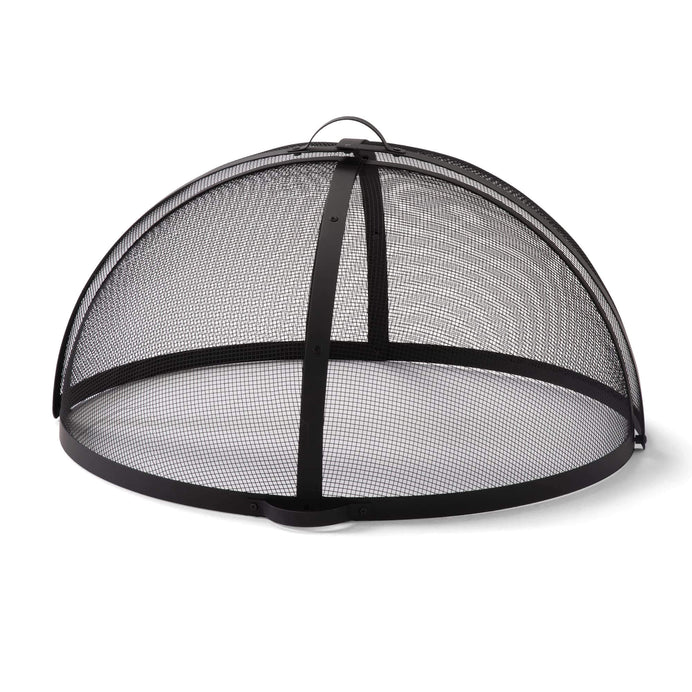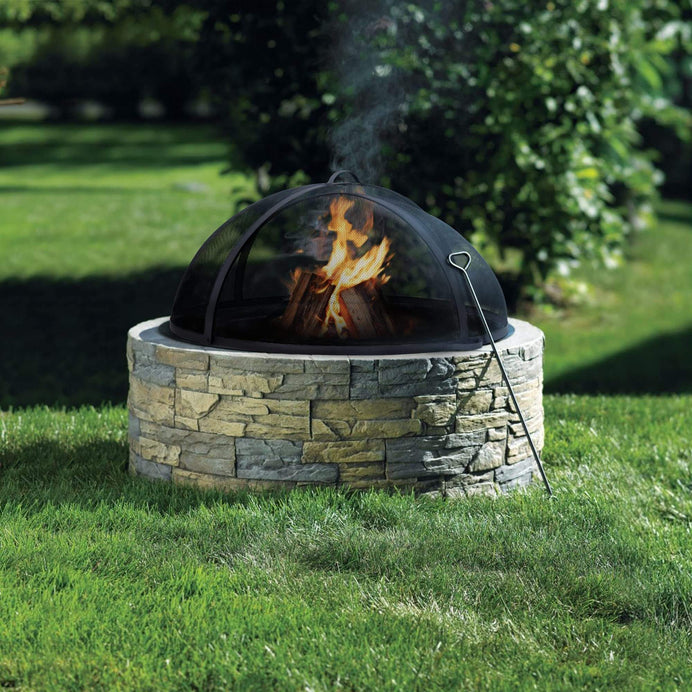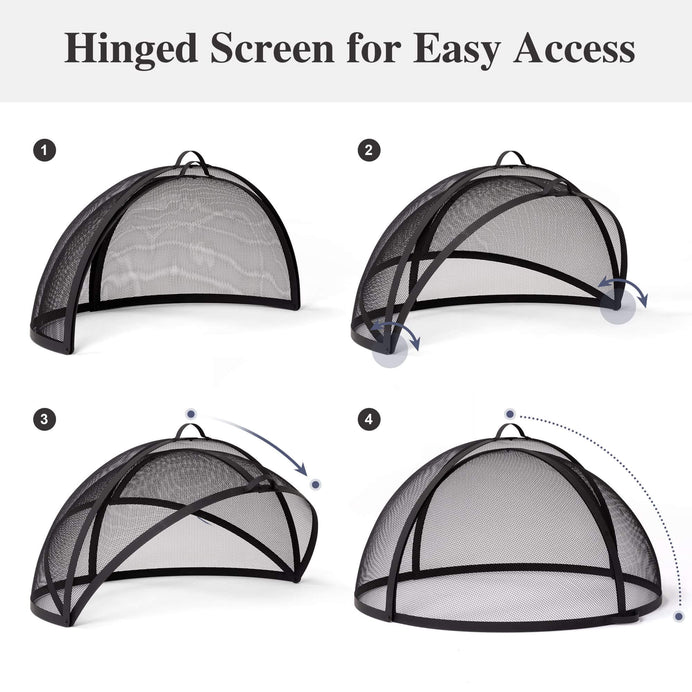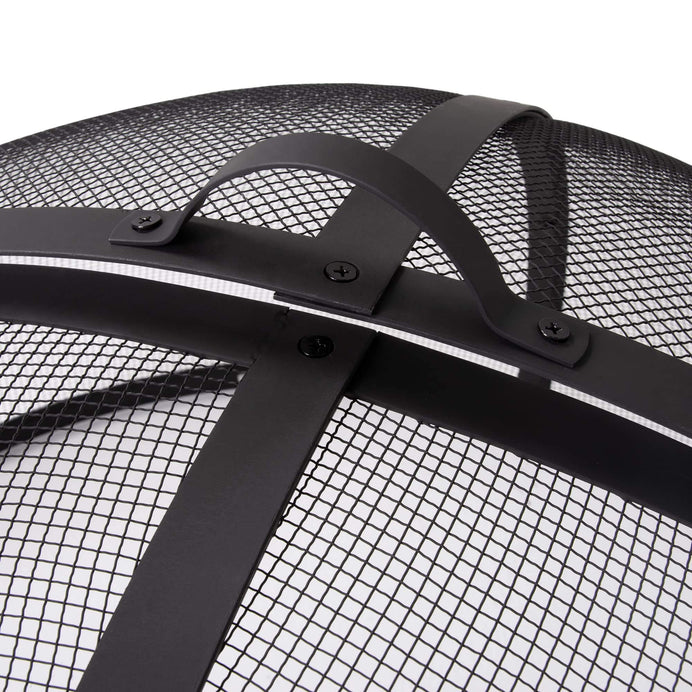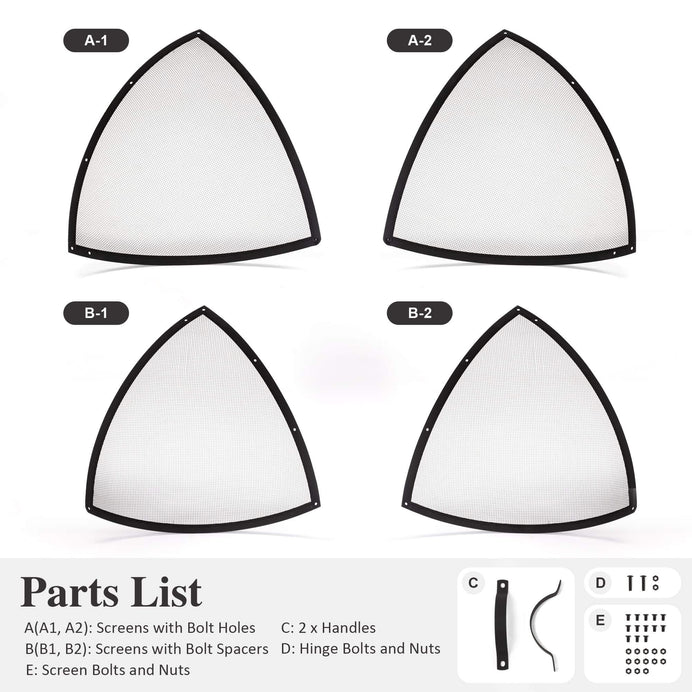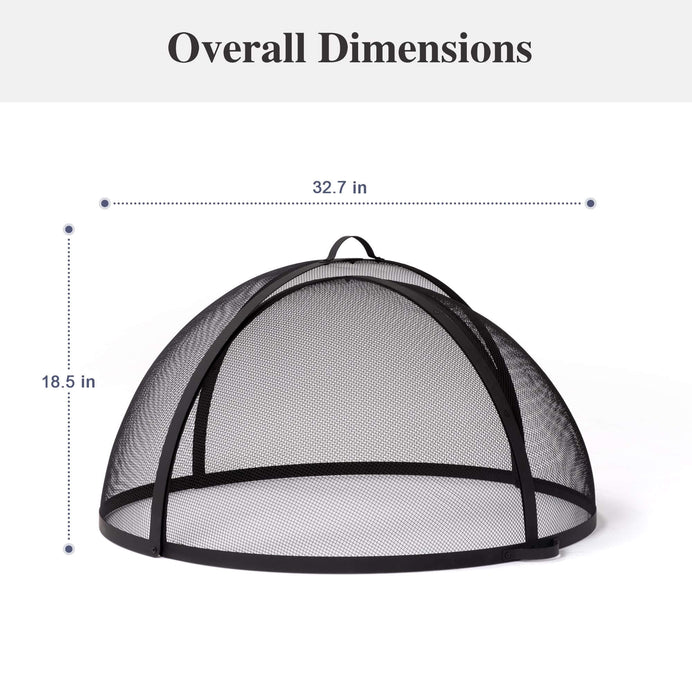 A fire pit screen is a smart choice if you have a fire pit at home because it may stop combustion splash while also allowing you to see what's going on inside.
The three sizes of spark screens match most brazier and pit sizes sold today. The fire pit spark screens consist of two metal meshes, connected by hinges. Consequently, it is easily rotatable to open for fuel addition. Add a spark screen to your fire pit if it doesn't already have one to help cover the ashes and keep them from flying.
Notice: The screen you choose shall be 2 feet or more in diameter than your fire pit.
Advantages:
High temperature-resisting coat to prevent the screen from being damaged.

Easy to assemble and use.
Size:
30": diameter 31.5 inch 36": diameter 36.2 inch 40": diameter 41.3 inch
Fire Pit Safety Tips:
Before using the fire pit, place it in a safe location and away from any flammable surfaces.

Place the fire pit in a spacious area of the yard that you can safely move it around. Besides, please keep away from flammable objects such as grass, trees, plants or shrubs.

Make sure the fire pit is not too close to the house or shed.

Never light a fire in a gazebo or other enclosed area.

Check the wind direction before using the fire pit.

Adopt effective fireproofing safety precautions. For example, keep a fire extinguisher, a fire blanket, or at least a bucket of water/sand nearby.

Keep children and pets away from the fire pit.

After using the fire pit, ensure that the fire is completely extinguished. To keep ash from flying everywhere, cover the fire pit with a suitable cover.

If your fire pit lacks legs or is very thermally conductive, protect the bottom where it meets the fire pit.

Keep the fire under control and avoid putting flammable materials into the fire pit to cause fierce fire.
When was your last backyard makeover? What updates did you make?
We are actually working on that now since we recently moved. I love creating an inviting space that says, "Psst, it's more fun out here than inside." I want my family and friends to want to hang outdoors when they visit.
What originally made you want a hammock? Why did you finally choose SUNCREAT?
I really enjoy snuggling up with the kids and reading books to them. We also love finding shapes and pictures in the clouds. It's one of my favorite memories from my childhood, and I want to share that experience with them. I did some research on hammocks and loved the SUNCREAT's reviews and styles. We are loving our hammock and so happy with our choice.
When do you find yourself using the hammock most often? Weekend or weekday? At your leisure or after a busy day?
Our absolute favorite time to lie in the hammock is just before dinner time. I take each child out individually for a one-on-one, and we lie in in it searching the clouds and chatting about their favorite part of the day. They almost always say, "right now."